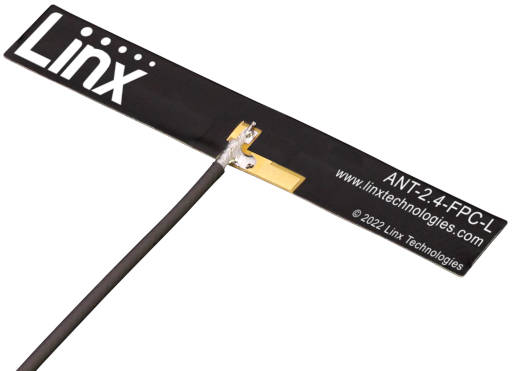 Linx Technologies has introduced a family of 2.4 GHz adhesive flexible printed circuit antennas for ISM applications including Bluetooth and ZigBee and Wi-Fi.
They provide a ground-plane-independent dipole, according to the company, and are intended to be stuck inside plastic enclosures and other structures transparent to the frequency band "enabling environmental sealing and protection from antenna damage", it said.
Connection is made to the radio through an attached coaxial cable, with a choice of 50, 100 or 200mm length, with MHF1/U.FL or MHF4 connector on the far end.
"By providing a wide assortment of different size and orientation options, the 2.4 GHz FPC Series can meet the needs of many different ISM, IoT and WiFi applications," said company v-p of product management Rick Stuby.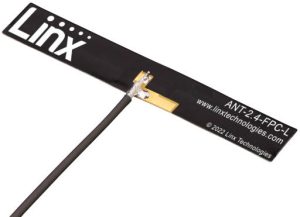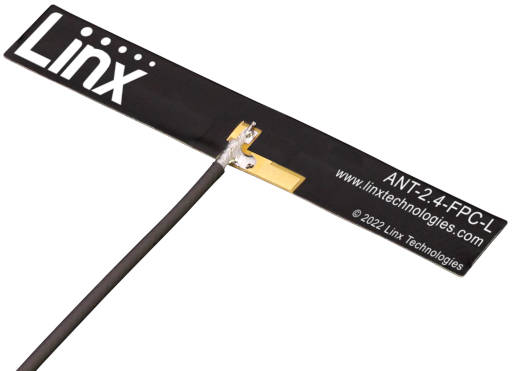 ANT-2.4-FPC-LH (left), for example, is ~45 x 7mm and provides a half-wave 50Ω omnidirectional dipole that can handle 2W.
Max VSWR is 1.4 and average gain is -1.1dB (6.1dB peak).  and aver
ANT-2.4-FPC-SF (top) is also half-wave, 50Ω, omnidirectional and 2W rated, but offers 1.9max VSWR and -2.1dB average gain (3.9 peak) from its ~25 x 20mm area.
Both are 0.1mm thick and work over -40 to +85, and there are another three antenna types to chose from.
The product page is here – click 'more' for more information. Access to data briefs and data sheets requires providing your details.
Linx is based in Oregon.