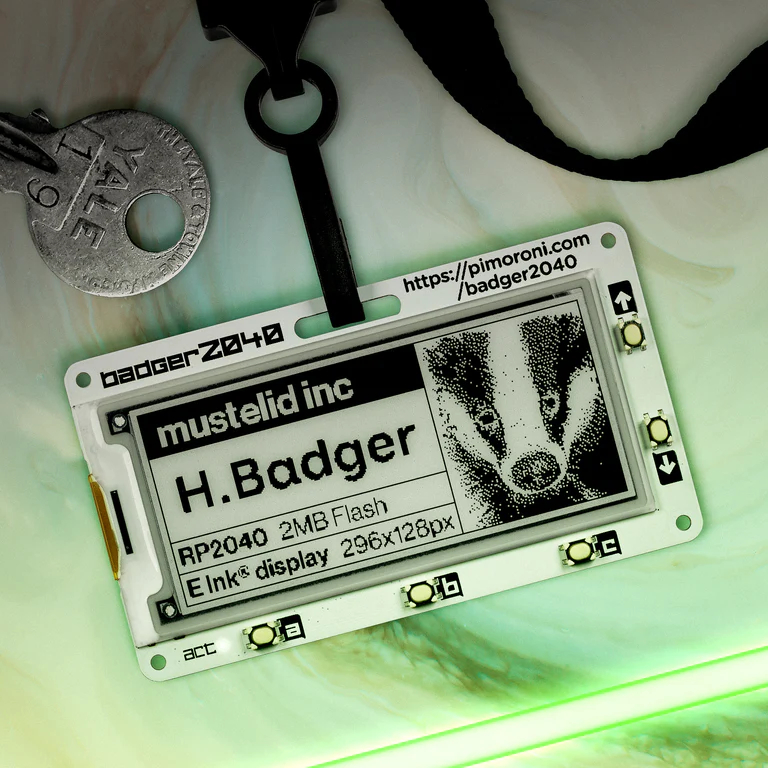 Building on the Raspberry Pi microcontroller silicon – the RP2040 – along with an EPD display (296 x 128), it makes a monochrome, maker friendly, e-paper badge, suitable for attaching to your person or property.
Featuring five front user buttons, there are also reset and boot buttons, and 2MB of QSPI flash memory, with the USB-C connector providing for power and programmability.
What could you do with it? Make your own customisable ID badge, or maybe a to-do list where you can tick items off, or even make a mobile weather station or air quality monitor, although that would require adding a sensor breakout, too…
The advantage of E Ink, of course, is that the display retains its image indefinitely after power is removed.
Note, there's also an Accessory Kit for the board, which contains batteries, battery holder, a lanyard, some Velcro and a USB-C to USB-A cable. Basically, what you would need to get portable.
The Pimoroni team writes:
"We've equipped Badger 2040 with plenty of buttons so you can easily change what's displayed on the screen, a slot so you can clip it onto a lanyard and a battery connector so you can keep things portable and refresh the screen whilst on the go. On the back, you'll find some funky badgerpunk stylings plus our RP2040 accoutrements of choice: boot and reset buttons and a Qw/ST connector so it's super easy to plug in Qwiic or STEMMA QT breakouts."
Buying the Badger on its own will cost £16.50. Along with the Accessory Kit it will cost £22.50. It looks good – I can see this getting popular.
To summarise, the features of the Badger 2040 board and its Accessory Kit are as follows:
Badger
2.9″ black and white E Ink display (296 x 128 pixels)

Ultra wide viewing angles
Ultra low power consumption
Dot pitch – 0.227 x 0.226 mm

Powered by RP2040 (Dual Arm Cortex M0+ running at up to 133Mhz with 264kB of SRAM)
2MB of QSPI flash supporting XiP
Five front user buttons
Reset and boot buttons (the boot button can also be used as a user button)
White LED
USB-C connector for power and programming
JST-PH connector for attaching a battery (input range 2.7V – 6V)
High-precision voltage reference for battery level monitoring
Qw/ST (Qwiic/STEMMA QT) connector
Fully-assembled (no soldering required)
Accessory Kit
Badger 2040
2 x AAA battery holder
2 x AAA batteries
Velcro square
Black lanyard (made from recycled plastic bottles!)
USB-C to USB-A cable
You can read more on the Pimoroni website.