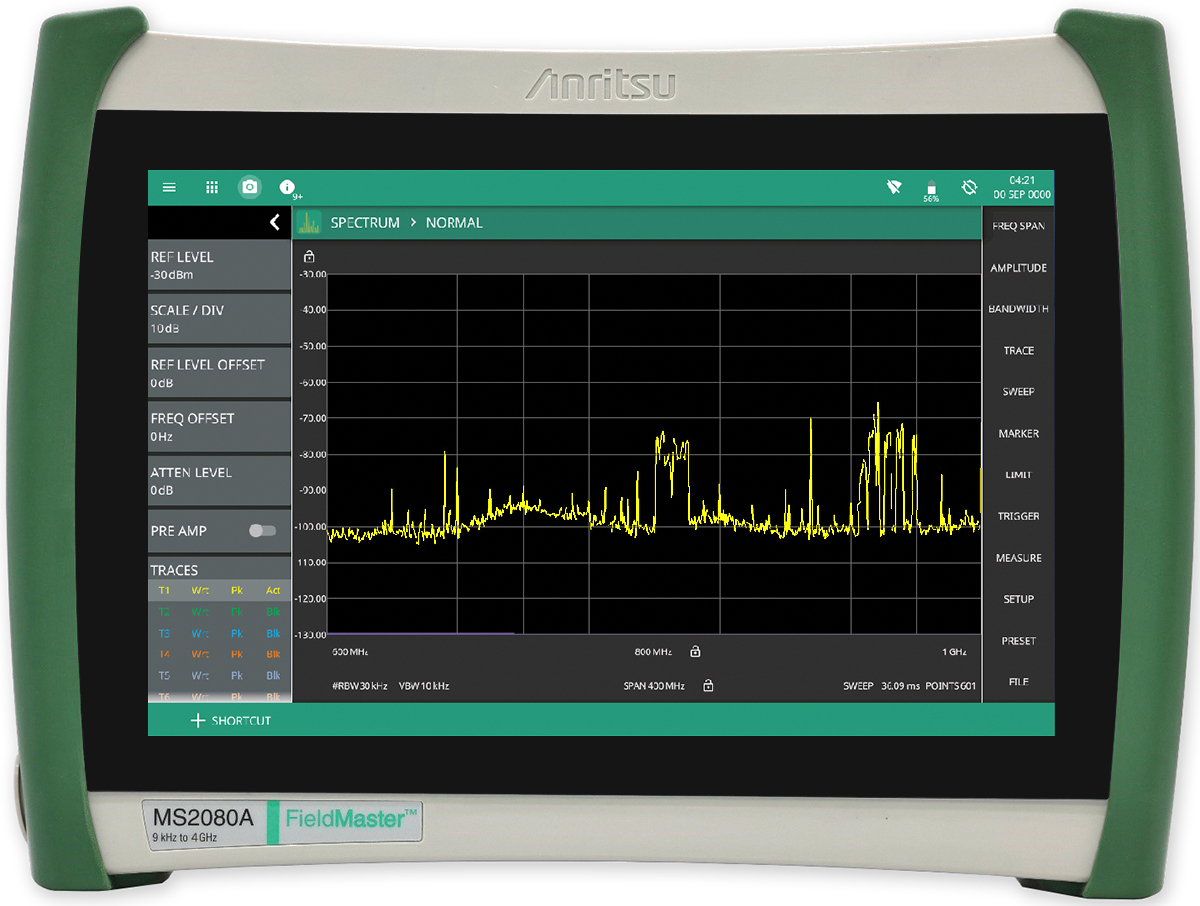 Covering 9kHz to 4GHz, MS2080A, as it is called, is suited to "interference hunting and 5G/LTE base station installation and maintenance", according to the company.
Measuring 290 x 212 x 96mm and 3.8kg, its battery is said to last more than three hours.
Modulation bandwidth is 20MHz, with a 40MHz option, dynamic range is typically >105dB, typical DANL is -167dBm (pre-amp on), ±1dB level accuracy is claimed and resolution bandwidth spans 1Hz up to 5MHz.
It "combines sweep speed of 45GHz/s, user features such as interference source location by triangulation, and RF performance including ±1dB amplitude accuracy," said Anritsu. "Additionally, it supports a cable and antenna analyser, power meter and 5G/LTE analysis."
Triangulation is an option, that requires a GPS option to be fitted as well. The LTE FDD/TDD signal analyser is also an option, as is 5GNR FDD/TDD FR1 (frequency range 1) measurements. The latter also needs the GPS option, and operates up to 4GHz, including C-band, to support installation and maintenance 5G NR ('new radio') and LTE base stations. Gated sweep analysis for transmitter quality measurements on carries is provided.
Other options include a real time spectrum analyser that provides 2.5µs POI (probability of intercept) is available. This has up to 40MHz analysis bandwidth and DANL of <-150dBm, "making it suited for capturing intermittent and digitally modulated signals", said the company.  that can be hard to identify. Spectrograms allow irregular and drifting signals to be captured, recorded, and displayed.
Some of these options can be bought as time-limited – for example, there is a 90 day version of the 5GNR FDD/TDD FR1 measurement option.
Three calibration options are available: 'accredited' to ISO17025 and ANSI/NCSL Z540-1, 'standard' to ISO17025 and ANSI/NCSL Z540-1 and 'premium' to ISO17025 and ANSI/NCSL Z540-1 plus test data.
As it might get used near transmitters, 5W of continuous RF input overload protection is provided.
The 10inch display has 1,280 x 800 resolution and meets IK08 for knocks and drops. Its soft case provides IP52 environmental protection.