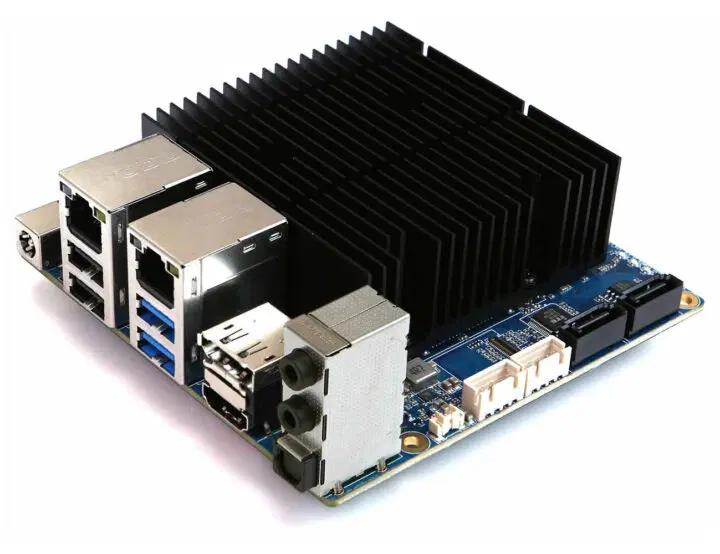 Last year, when Hardkernel decided to discontinue the production of the ODROID-H2+ SBC as a result of the global chip shortage currently faced by the IoT market, we thought that was the end for that line of boards, little did we know that the company had a lot up their sleeves.
We are pleased to inform you that Hardkernel has now brought back the ODROID H-series with not just one, but two new single-board computers based on 10nm Intel Jasper Lake quad-core CPUs: the ODROID-H3 and ODROID-H3+ SBCs.
The ODROID-H3 is powered by a 2.9 GHz Intel Celeron N5105 quad-core processor with 24EU Intel UHD graphics @ up to 800 MHz while the ODROID H3+ is based on a 3.3 GHz Pentium N6005 quad-core processor with 32EU Intel UHD graphics @ 900 MHz. All other features seem to be the same for the two; they both support up to 64GB RAM, have the same M.2 PCIe Gen 3 socket, and the same 2x 2.5 GbE, 2x SATA ports, 2x USB 3.0 and 2x USB 2.0.
Specifications of the ODROID H3/H3+ Include:
Processor

ODROID H3 – Intel Celeron N5105 quad-core Jasper Lake processor @ 2.0/2.9 GHz
ODROID H3+ – Intel Pentium N6005 quad-core Jasper Lake processor @ 2.0/3.3 GHz

Graphics

ODROID H3 – 24EU Intel UHD Graphics @ 450/800 MHz
ODROID H3+ – 32EU Intel UHD Graphics @ 450/900 MHz

Dual channel SO-DIMM DDR4 memory with up to 64GB RAM (2933 MT/s)
eMMC flash support
2x SATA 3.0 ports
PCIe 3.0 x4 lanes for one M.2 NVMe storage
Dual 2.5 GbE ports
2x USB 3.0 ports, 2x USB 2.0 ports
2x I2C, 1x UART, 3x USB 2.0, 1x HDMI CEC, 1x external power button
Standard 12V PWM fan header
Audio: HDMI, audio jacks for HP, MIC and S/PDIF
Video Outputs: HDMI 2.0 and DP 1.2
Power Supply: 14V to 20V DC power input
Dimension: 110 mm x 110 mm
Security: fTPM enabled
Operating System: Windows, Linux, BSD, Android
Certifications: FCC/CE/KC/RoHS
Compared with the ODROID-H2+, these new models are actually more powerful and offer higher performance with a larger memory capacity, more advanced IO ports and significantly faster Intel CPUs and graphics processors. The performance was even doubled in some cases.
Here's a table that describes how far apart the boards are from one another:
Features
ODROID H2+
ODROID H3
ODROID H3+
Processor
CPU
Celeron J4115
Celeron N5105
Pentium Silver N6005
Code Name
Gemini Lake
Jasper Lake
Jasper Lake
Base Frequency
1.8
2.0 (+11%)
2.0 (+11%)
Burst Frequency (Single Thread) (GHz)
2.5
2.9 (+16%)
3.3 (+32%)
Burst Frequency (Multi Thread) (GHz)
2.3
2.6 (+13%)
2.8 (+22%)
Memory
Max. Space (GB)
32
64 (+100%)
64 (+100%)
Max. Speed (MT/s)
2400
2933 (+22%)
2933 (+22%)
Graphics Processor
Base Frequency (MHz)
250
450 (+80%)
450 (+80%)
Burst Frequency (MHz)
750
800 (+7%)
900 (+20%)
PCIe (via NVMe Adapter)
Generation
2
3
3
Max. Transfer Rate (GT/s)
5.0
8 (+60% more)
8 (+60% more)
Max. Throughput x4 (GB/s)
2
3.94 (+97%)
3.94 (+97%)
Security
TPM 2.0
fTPM disabled
fTPM enabled (this ensures that Windows 11 can run)
Meanwhile, the H3 and H3+ are compatible with the H2+ meaning you can reuse the same enclosures and add-on boards. The ODROID H3 sells for $129 while the H3+ goes for a higher price of $165.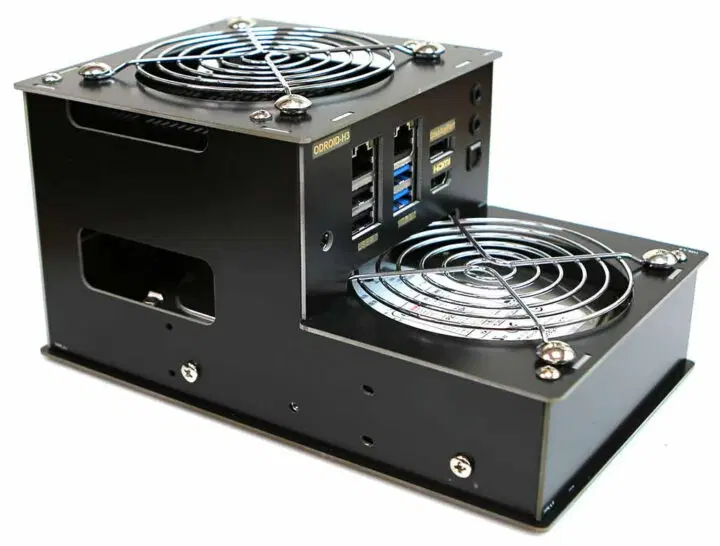 Other useful details on the boards, including instructions on installing OS, can be found on a Wiki page. There's a forum post that also talked extensively about them.