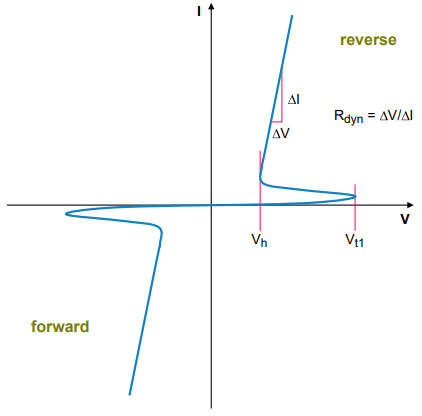 Nexperia is aiming at protecting USB 3.2, HDMI 2.0 and LVDS data lines in vehicles with family of ESD (electrostatic discharge) protection diodes.
"Additionally, this portfolio also aims to address the upcoming high-speed video-links as well as the Open Alliance multi-Gbit Ethernet applications", according to the company.
All variants come in 1 x 0.6 x 0.5mm leadless packages to improve electrical performance and signal integrity – capacitance is as low as 0.3pF and clamping resistance can be as low as 0.3Ω.
PESD5V0C1BLS-Q and PESD5V0C1ULS-Q are two-pin single line devices in a DFN1006BD-2 package.
PESD5V0C2UM-Q comes in a three-pin DFN1006-3 and intended for differential pairs.
The devices are uni-directional, except for the PESD5V0C1BLS-Q which is bi-directional (see U or B in the part number).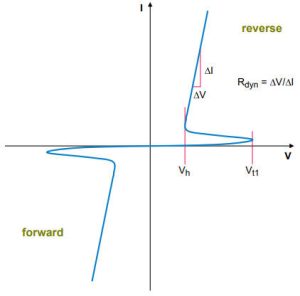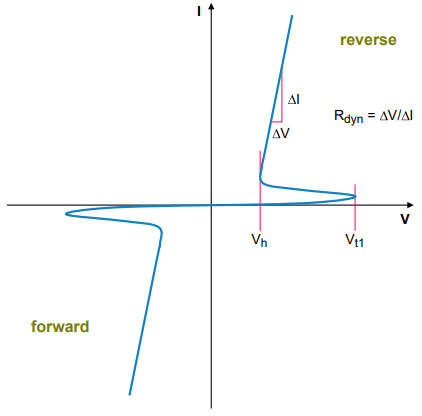 All have snap-back characteristics (bidirectional left) where the device turns on at a particular voltage, clamping its terminal voltage down to a lower value.
In the case of the bidirectional single clamp PESD5V0C1BLS-Q, it will stand-off 5V max and trigger typically at 8V (7.5V min), then typically clamp to 5.4V (8A, 25°C). Dynamic resistance is 350mΩ (10A, 25°C) – both these current figures are for 100ns ANSI / ESD STM5.5.1-2008 pulses.
IEC 61000-4-5 8/20μs pulse current rating is 6.5A, un-triggered capacitance is 300fF ( max, 1MHz, 0V, 25°C) and leakage is 50nA max (1nA typ).
Operation is over -55 to 150°C.
The differential pair PESD5V0C2UM-Q also comes in a non-automotive version PESD5V0C2UM.
Use is expected in automotive audio-visual monitors, displays and cameras.
Product pages