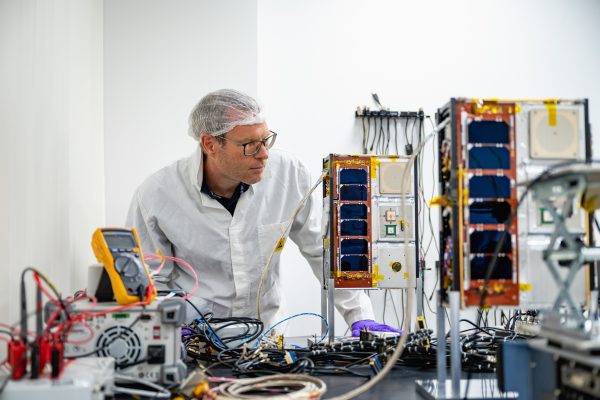 Already in the payload for the imminent first UK space launch is the satellite of the UK's Satellite Applications Catapult and Horizon Technologies, IOD-3 Amber (see below).
Prometheus-2
The Prometheus-2 cubesats – measuring 30cm X 20cm X 10cm – have been designed jointly with Airbus Defence and Space in Portsmouth. They are owned by the Defence Science and Technology Laboratory (Dstl) on behalf of the Ministry of Defence (MOD). The two satellites will provide a test platform for earth imaging and the monitoring of radio signals, including GPS.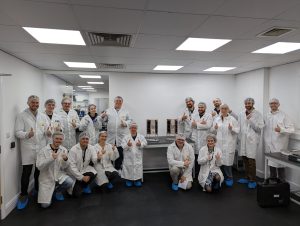 Pictured, right, are the In-Space team, following the final testing of the cubesats at the company's cleanrooms in Alton, Hampshire.
"This has been an exciting mission to work on for our team," said Ed Stevens, Chief Engineer at In-Space Missions. "The combination of so many, very capable payloads on each spacecraft has proven to be an enjoyable challenge."

"The teamwork and collaborative approach we've shared with our customers has been brilliant and particularly highlighted in the intense period of testing that always precedes taking spacecraft to launch site."
IOD-3 Amber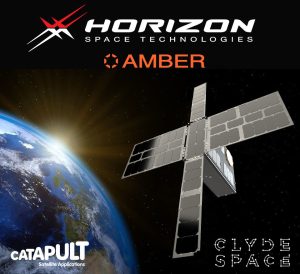 The IOD-3 Amber has been developed by the Satellite Applications Catapult and Horizon Technologies and built by AAC Clyde Space. The latter acquired the Glasgow company Clyde Space in 2019, in a deal worth $35.3 million, and Glasgow is their main centre for satellite manufacture.
The satellite has already been successfully integrated into Virgin Orbit's launch system ready for the Start Me Up mission, which is due to launch from Cornwall in the first half of November, pending regulatory approval.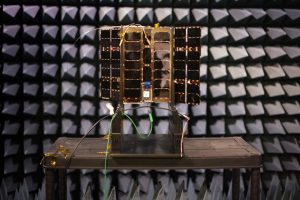 Its testing is pictured above.
It will be the first of more than twenty in Horizon's Amber constellation, which aims to provide governments and other customers with information to help combat illegal fishing, smuggling, trafficking, piracy and terrorism.
"This launch sets a precedent for the future of the UK Space industry and highlights the strength of the UK in the development of complex small satellite missions, as outlined in the National Space Strategy," said Luis Gomes, CEO, AAC Clyde Space.
See also: Virgin Orbit completes rehearsal for first UK space launch at Spaceport Cornwall