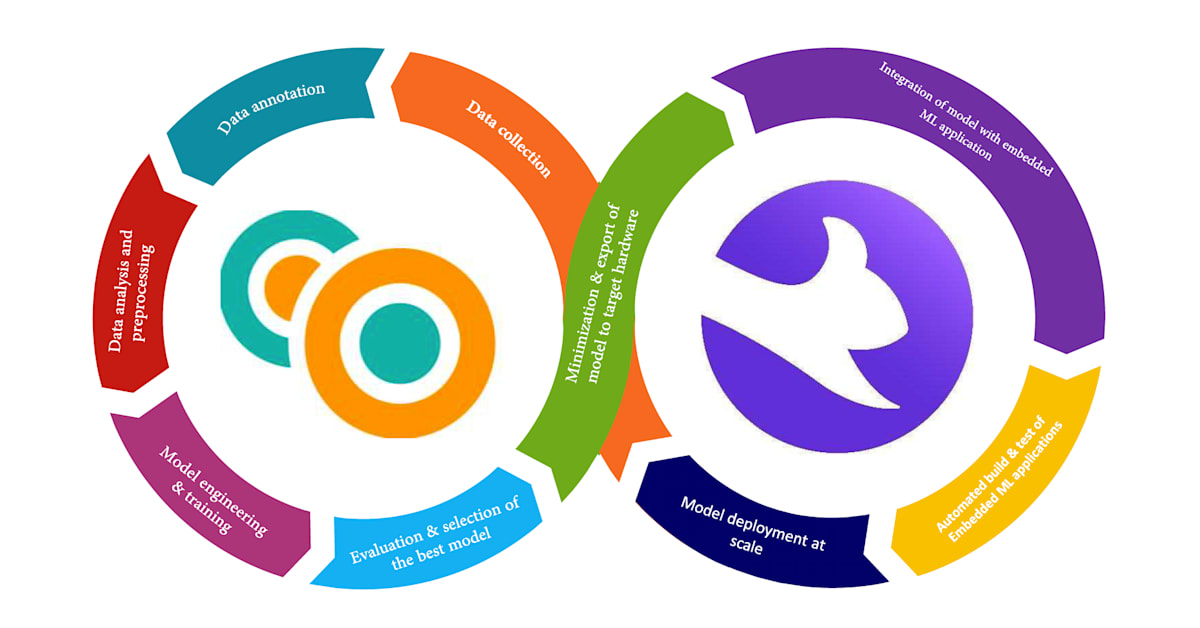 This enables developers to use Imagimob AI to create production-ready deep learning tinyML applications, and perform mass deployment and update applications in the field using the FotaHub services.
Once an edge ML model is ready for deployment in Imagimob AI, it will be automatically uploaded to a corresponding repository for versioned firmware/ML model updates at FotaHub and become ready for rollout to the end devices.
This opens the door for the tinyML world to support continuous learning and integration and deployment of ML models regardless of the targeted microprocessor platform or the physical location of the devices.
The combination of Imagimob/FotaHub technologies provides a solution to some major challenges that customers are facing today: How to make mass deployment and updates of ML models in the field, how to ease the burden of ML models' long-term maintenance, and how to address model drift and improve the model's performance in the field.
Imagimob and FotaHub are pairing the tinyML and OTA convergence dynamics with tools and a secure deployment infrastructure to drive differentiated solutions that maximize the business value of intelligent endpoints.
Both companies' joint effort will decrease the effort, time and cost to get ML-enabled devices ready and evolve them over the whole product lifetime.
FotaHub allows new features to be added to devices and ensure their optimal operation, even after having proceeded to large scale field deployments of the same.
FotaHub also opens the possibility to respond to defects and security vulnerabilities. Thanks to its  variety of dedicated embedded device SDKs, FotaHub is silicon manufacturer-independent and can be used for any kind of microcontroller-based or embedded Linux device.
FotaHub particularly allows ML models inside embedded devices to be kept up-to-date, model drift to be addressed and new firmware/ML model versions to be prototyped and rolled out in very short cycles.
In addition, FotaHub offers a worldwide unique set of SSL/TLS extensions to support secure delivery of firmware/ML model updates to very small microcontrollers, and thereby helps to bridge the huge gap between the embedded device-side world and the IT/cloud universe.
Imagimob AI is an end-to-end development platform for machine learning on edge devices. It allows developers to go from data collection to deployment on an edge device in minutes.
Imagimob AI is used by many customers to build production-ready models for a range of use cases including audio, gesture recognition, human motion, predictive maintenance, material detection and more.