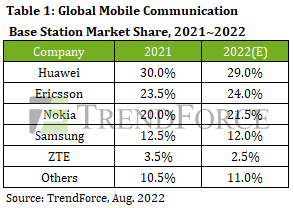 O-RAN is the answer to the political situation with Huawei and to the cost implications of having a quasi-monopoly of  only three end-to-end vendors.
However O-RAN has more security issues then end-to-end suppliers.
TrendForce believes, with the evolution of 5G deployment towards the core and O-RAN cloud, equipment manufacturers will strengthen network protection mechanisms and detection of RAN threats to reduce risk.
Global cumulative O-RAN revenues – radio and baseband excluding services – are forecast by Dell 'Oro  to approach $20 billion over the next five years, accounting for around 15% of the 2026 RAN market