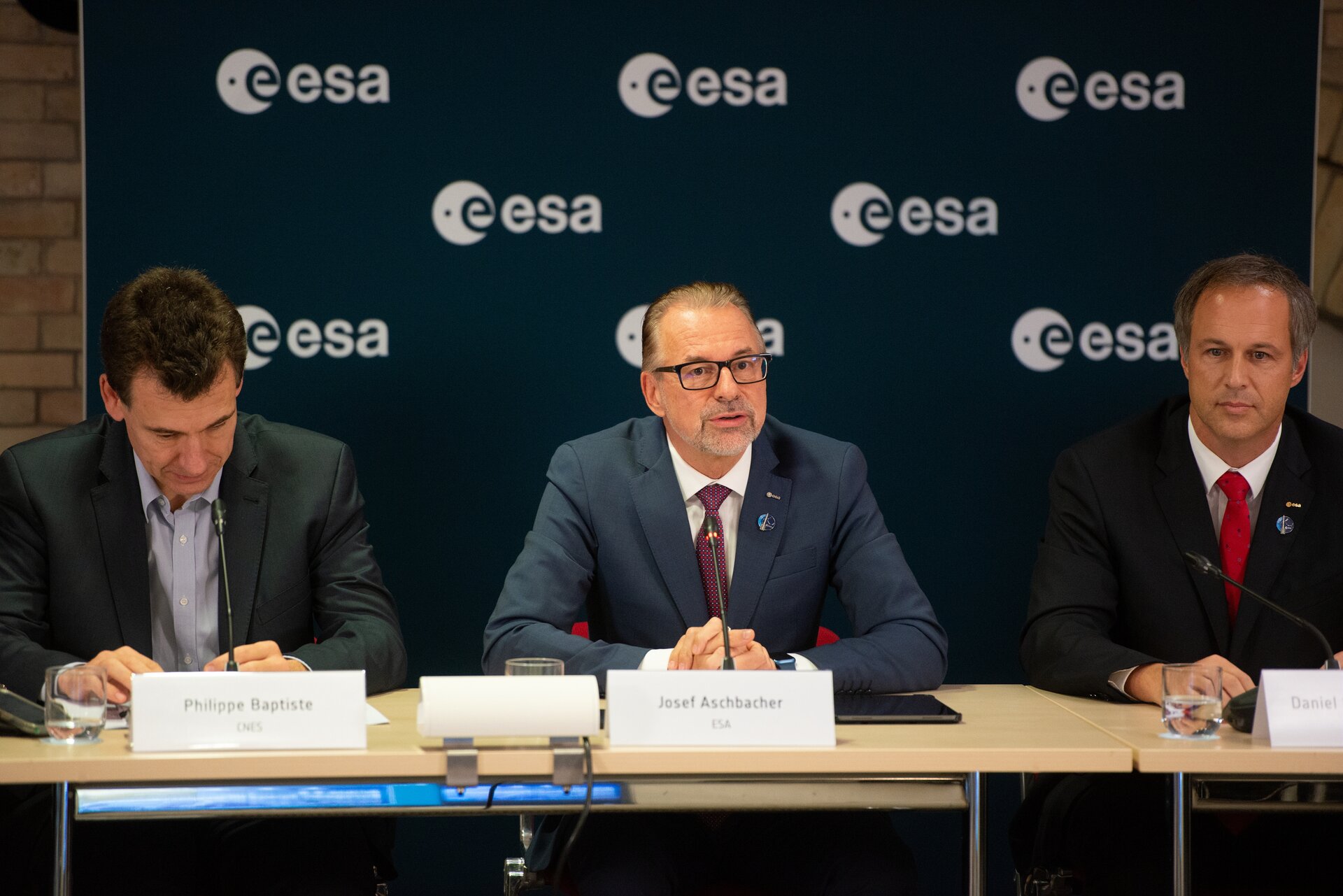 The ESA's Director General Josef Aschbacher said to anticipate Q4 2023 for the first flight. This, however, is pending the realization of three key milestones before April next year: completion of the upper stage hot firing test campaign, hot firing tests of Ariane 6's core stage with its Vulcain 2.1 engine and the start of the launch system qualification review by the first quarter of 2023.
"With a project of this magnitude, it needs to be clear that this is a planned date and that the program will still need to successfully and timely achieve a number of key milestones in order for this schedule to be valid," he said.

"What is at stake here is European independent access to space. We are all fully committed to proceeding as speedily as possible to the launch pad."
France's space agency, CNES, is preparing the rocket's launch facilities at ESA's Spaceport in Karou in French Guiana.
Ariane 6
You can read more about Ariane 6 on the ESA website.
The rocket will be available in two versions depending on the required performance: Ariane 62 with two strap-on boosters, and Ariane 64 with four.
Ariane 62 will be able to launch payloads of approximately 4500 kg into geostationary transfer orbit, or 10 300 kg into low Earth orbit. And Ariane 64 will launch payloads of approximately 11 500 kg into geostationary transfer orbit and 20 600 kg into low Earth orbit.
Standing 60 metres tall, Ariane 6 will weigh almost 900 tonnes when launched with a full payload.
For the development of Ariane the rocket, ESA has been working with an network of several hundred companies in 13 European countries, led by prime contractor ArianeGroup.
Vega-C
At the media briefing in Paris, the ESA highlighted an "extremely important event" on 13 July 2022 with the successful inaugural flight of ESA's Vega-C launcher. Its P120C solid-fuel first stage does double duty, also serving as strap-on boosters for Ariane 6 – with two or four units to be used depending on mission requirements.
The rocket's main payload was LARES-2, a scientific mission of the Italian Space Agency ASI, taking off from Kourou. The purpose of the mission is to measure the so-called frame-dragging effect, a distortion of space-time caused by the rotation of a massive body such as Earth as predicted by Einstein's General Theory of Relativity.
The ESA Director of Space Transportation Daniel Neuenschwander said that with Vega-C flying and Ariane 6 on the way, "The new family of European launchers is ready for full deployment."
Image: ESA – ESA Director General Josef Aschbacher (centre) with ESA Director of Space Transportation Daniel Neuenschwander (right) and CNES Chief Executive Philippe Baptiste (left) at ESA's Bertrand headquarters in Paris.