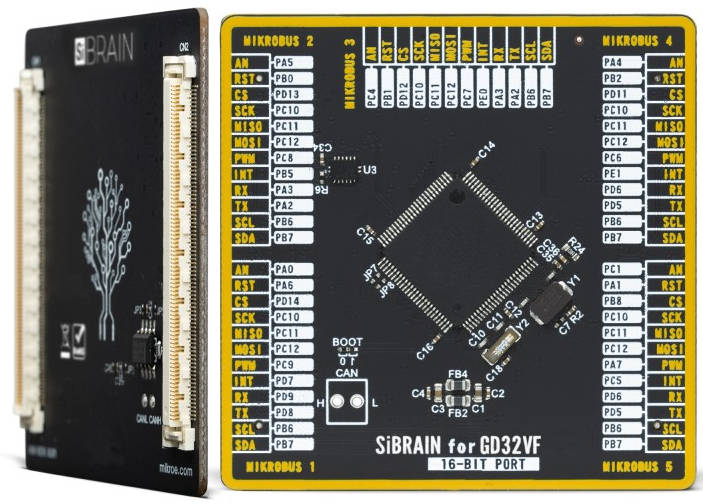 Mikroe is the company is behind the 'Click' interface format and SiBrain is the latest version of its MCU equivalent, with a standardised 61 x 61mm footprint with two 168pin mezzanine connectors.
The processor runs at 108MHz and the VBT6 version has 128kbyte on-chip flash with zero wait state accesses, and 32kbyte of sram.
Peripherals include up two 12bit ADCs with 16 channels, two 12bit DACs, four general 16bit timers, two basic timers and a PWM advanced timer.
Amongst interfaces are three SPIs, two I2Cs, three USARTs, two UARTs, two I2Ss, two CANs and 12Mbit/s USB.
Also on there is an interrupt controller and support for JTAG-GDB debug.
"This RISC-V IC targets interconnected applications including industrial control, motor drives, power monitoring and alarm systems, consumer and handheld equipment, point-of-sale, vehicle GPS and LED display," said Mikroe CEO Nebojsa Matic.
The dev board page canbe forund here and the GigaDevice GD32VF103VBT6 MCU page is here