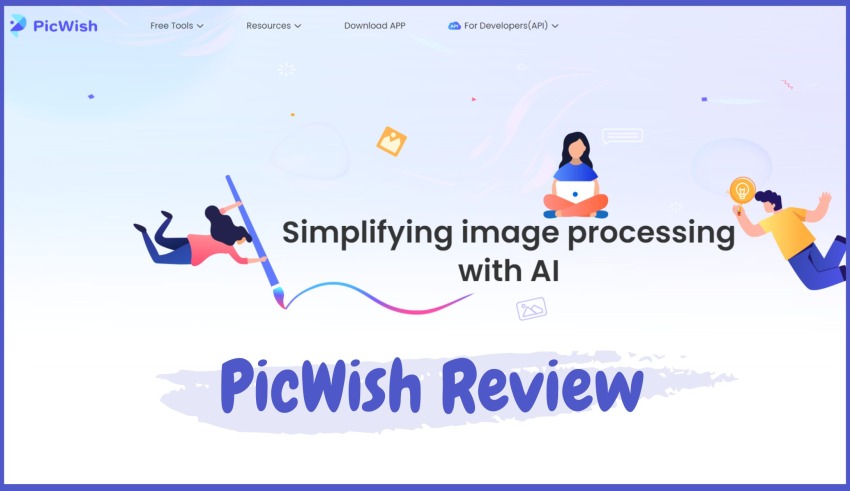 Looking for a quick and easy way to edit photos on your phone? Check out Picwish! With this app, you easily remove the background of a photo with clean and crisp outlines.
Whether you're wanting to make a photo for your profile picture or you need to crop out something in the background of a photo, Picwish is perfect for the task. Here is a detailed review of Picwish and how it can be used to edit photos.
Overview of Picwish
PicWish is a free online tool that makes it easy to remove the background of any image. With just a few clicks, you can upload your photo and get rid of the background.
Picwish is an AI-powered image processing tool that helps you free up time by automating repetitive tasks. With Picwish, you can easily engage in more valuable work, and make your pictures look better than ever before.
From basic features like photo editing and color correction to more advanced functions like object recognition and facial recognition, PicWish has it all. And because PicWish is constantly evolving, you can be sure that it will always be at the forefront of the latest image processing advancements.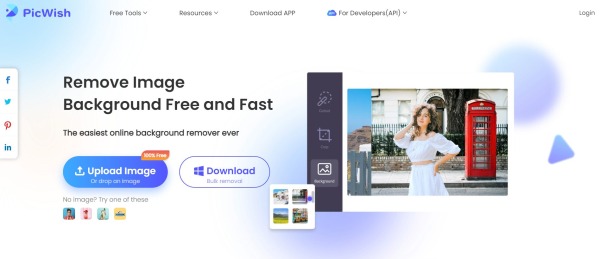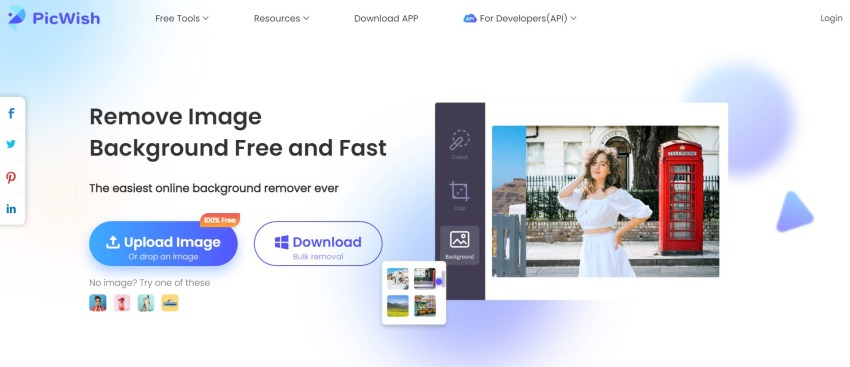 Global Outreach
With over 200 employees in 6 offices across the globe, Picwish is truly a global company. The cutting-edge technology and world-class team of experts are bringing recent advances in Visual AI to people, homes, and organizations all over the world.
Picwish is more than just a pretty picture – it's a revolutionary way to connect with people and capture memories. With Picwish, you can create beautiful photo albums, share stunning images with friends and family, and even turn your photos into Art with easy-to-use editing tools.
If you're looking for an AI-powered image processing tool that can make your life easier, look no further than PicWish. With its cutting-edge technology and deep understanding of the image processing field, PicWish is your one-stop shop for all your image processing needs.
How To Use Picwish?
The best thing about PicWish is that it's very user-friendly. Everything is straightforward, and the process is simple.
Here's how it works:
Upload whichever photo you want to make changes to.

Select "Background Eraser."

Click on the specific area you want to remove from the photo.

Download the edited photo.
The background of a photo may be removed using Picwish. Background removal with Picwish can be done individually or in batches. The tool utilizes artificial intelligence to give you a precise cut rather than the time-consuming and difficult task of retouching or graphic design. To get a picture free of background, simply import the photo on the software. If the outcome isn't good enough, you may always improve it manually with post-production work.
The result is a transparent PNG or JPEG file that can now be used for commercial purposes. Overall, Picwish is a great tool for removing backgrounds from photos with its easy-to-use interface and artificial intelligence technology.
Features of Picwish
Picwish is an all-in-one photo editing tool that offers a wide range of features to help you transform your photos.
Background Remover
When it comes to editing photos, the options are limitless. With PicWish Background Remover, you can instantly edit backgrounds 100% for free. Whether you're looking to touch up a personal photo or create a professional image for your business, PicWish has the tools you need. With just a few clicks, you can remove unwanted objects, change the background color, or even add new elements to your photo. And best of all, PicWish is completely free to use. So why not give it a try today and see what PicWish can do for you?
Image Compressor
This Image Compressor is the best on the market, period. Do photos lose quality when compressed? With PicWish AI compression algorithm, they don't have to! The team has worked tirelessly to perfect the software, and they're confident that you'll find the Image Compressor to be the best balance between image quality and file size. Plus, the flexible compression options give you the ability to compress photos in just seconds – whether you're looking for size-first, normal compression, or clear-first. So what are you waiting for? Give the Image Compressor a try today!
Photo Retouch
If you're looking for a way to unblur images and enhance your photos, look no further than PicWish's Photo Retouch technology. Powered by advanced AI face enhancement, this tool can help you achieve clearer, crisper results with your images. Whether you're trying to restore old photos or simply sharpen up a portrait, PicWish's Photo Retouch can help you get the job done quickly and easily. So why wait? 
Image Enlarger
If you're looking for an image enlarger that doesn't distort or blur your pictures, PicWish is the perfect tool for you. With the state-of-the-art AI technology, they are able to adjust lines, colors, and tones to keep your enlarged photos looking great. Whether you have a small photo that you want to enlarge or a large batch of images, PicWish can handle it all with ease. So don't wait any longer, try PicWish today and see the difference!
Face Enhancer
This pro-level AI photo enhancer is powered by enhancement algorithms that are trained for super crisp results. Whether you have a low-resolution portrait, product photo, or graphic, PicWish can make it look amazing with just a few clicks. Enhance your image to twice or four times the total pixel count for a brilliant result. Making a blurry picture clear has never been so easy! And since PicWish works for both personal and business needs, you'll always be able to get the high-quality images you need.
Image Text And Watermark Remover
If you're looking for a way to remove extra passersby, text, or watermark from your photos, PicWish is the perfect solution. With a one-click object removal tool, you can get rid of unwanted objects in just 3 seconds, leaving you with a clean photo that captures the perfect moment. PicWish uses AI to help you identify and remove unwanted objects and watermarks from your photos, so you can focus on the content you want to express. Whether it's a trash can in the background of a near-perfect shot, or power lines and buildings cluttering up a landscape photo, PickWish can help you clean up your photos quickly and easily.
Benefits of Using Picwish
There are many benefits of using Picwish to edit your photos.
Picwish is a free photo editor tool online that makes it easy to remove the background of any image.

It is very user-friendly and doesn't require any tech-savvy skills.

Picwish uses artificial intelligence to give you a precise cut.

It can be used to remove backgrounds from photos individually or in batches.

Picwish offers a wide range of features to help you transform your photos.
Is Picwish Worth Trying?
If you're looking for top-of-the-line image processing technology, look no further than Picwish. Their Artificial Intelligence Lab has been hard at work developing a range of cutting-edge features, including image cutout, watermark removal, image enhancement, image enlargement, and image compression. 
With the easy-to-use tools, anyone can make their images look amazing with just a few clicks. And the global vision means that we're constantly expanding the reach to provide the best possible service to users around the world. So whether you're a professional photographer or just someone who wants to make their photos look their best, Picwish is the perfect solution for you.
Conclusion
Picwish is a great online tool for anyone looking to edit photos quickly and easily. With its AI-powered tools, it's easy to retouch portraits, fix skin imperfections, and add beautiful bokeh effects. Plus, the free design tools make it easy to create, download, and share your designs – anytime, anywhere. So why wait? Get started today and blow your readers away with stunning visuals!