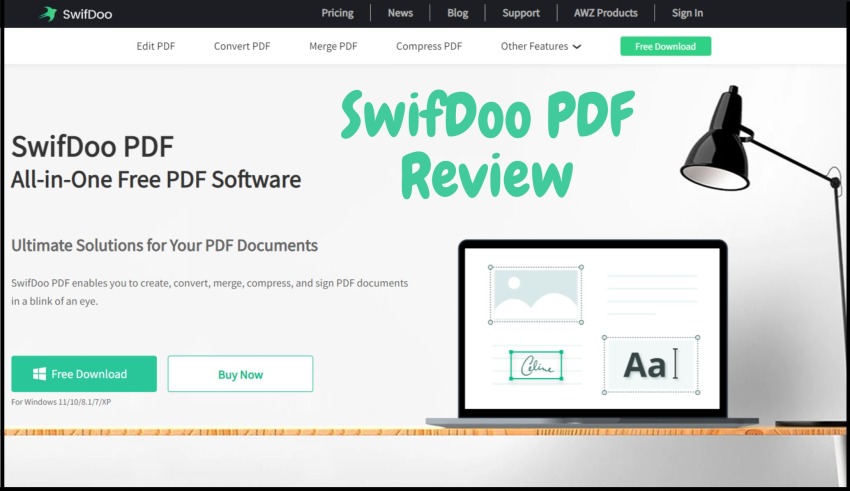 SwifDoo is not as old as many of the other PDF solution providers but that doesn't mean it is any bad. The company started in 2017 and since then has been able to process millions of documents having helped thousands of PDF users by providing quality PDF solutions. SwifDoo claims to have useful and quick solutions to all the relevant issues and needs that may arise while dealing with a PDF. Whether you want to edit the PDF, organize the pages or keep it protected, the tool has the needed features for it. The company has over 5 years of experience in this field and claims to have developed the tool to ensure quality services to the user. Let's take a look at the various features of the tool.
Features of SwifDoo
If you are planning to use SwifDoo then it might be helpful to look at some of the features of the tool. Since, the company claims to provide solutions to relevant PDF tasks you can expect the tool to have some nice and handy features that can help make your tasks of handling a PDF much easier.
It can often be a challenging task to edit a PDF document. But you might need to do it urgently. So, what do you do? Well, SwifDoo has the solution for you. You can use this tool to easily edit ODF documents.
With this tool, it becomes easy to delete any text from the PDF or add any text to it.
Sometimes you might need to adjust the font size or color of the fonts. Guess what? SwifDoo PDF allows users to change the font size and color of the fonts in PDF.
One can even add links to the PDF or insert any images if they need to.
Converting Document Types
Today, different organizations and institutions need different document types depending on the task or project. Having a tool handy for converting documents to different types can be helpful.
With SwifDoo you can convert any pdf document to different document types which include PowerPoint, Excel and Microsoft Word. The conversion can happen in the reverse order as well (Word to PDF etc.).
SwifDoo also allows users to easily convert any PDF document to image formats. You can convert your document to BMP, TIFF, Png, or JPG. The conversion can happen and vice versa as well.
You can use SwifDoo to even convert CAD to PDF.
Use SwifDoo as a Compressor
Sometimes you need to reduce the size of the PDF document because some portals or websites only allow a certain maximum size. If you need to reduce the size of your PDF document you can use SwifDoo as well.
One can choose from three image qualities viz. Basic, medium, and high. You don't have to worry a lot about quality loss. The company assures that you won't experience a high loss in quality. The idea is to ensure that the users don't have issues while using the document again.
Merge or Split PDF Documents
Another task that we often need to do with PDF documents is to merge them. We might have two PDF documents at our hand and we want to merge them to ensure we have one continuous document. That can be done using SwifDoo easily.
Alternatively, you might find yourself in a situation where one document needs to be split into multiple ones based on sections, content etc. Whatever the reason might be you can trust SwifDoo to help you split a PDF document into multiple ones.
Using SwifDoo one can easily annotate the PDF file. Annotations can be useful if you are commenting on certain sections of the PDF and want to effectively communicate with the other parties involved regarding the document.
You can also use SwifDoo to E-Sign PDF documents. You can send legally valid signatures. The best thing is, you can do this for free using the free E-Sign tool offered by SwifDoo.
So, these were some of the basic features that one can expect to enjoy while using SwifDoo.
How to Get Started With SwifDoo PDF Pro?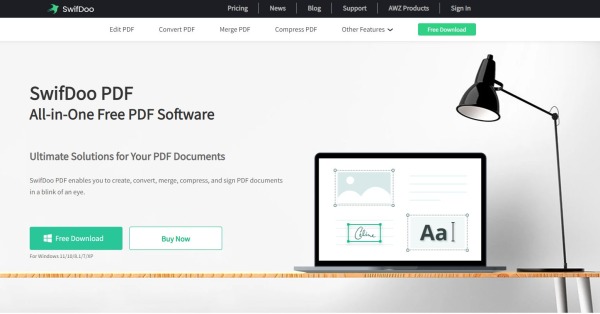 The steps to get started with SwifDoo PDF Pro are quite easy. In a few steps, you should be able to start using the tool. Let's look at the steps.
# Step 1: Registration or Sign Up
The first order of business is to sign up and create an account on the SwifDoo website. There aren't too many details to fill up. So, go through the signup form and add the relevant info and create the account. Once you are done click on the register button. That's it! You have successfully created an account on SwifDoo.
# Step 2: Go To Your Account
Once you have successfully completed your registration on the website you can access your account. To do so, you have to login to SwifDoo first. Once that's done you can see a profile icon on the top. Click on it to get a menu. Select my profile to go to your account.
# Step 3: Activate SwifDoo PDF Pro
You can go to the user center. Once you are here, you can enter the redeem code which is the (license code: m-swifdoo-kfadk) for the SwifDoo PDF Pro. Once you enter the redeem code and click on redeem you should be able to start using SwifDoo PDF Pro.
Why Choose SwifDoo?
So, we saw some of the features of SwifDoo PDF. Let's now look at some of the reasons to choose this tool as your go-to tool for PDF documents.
The company has ensured that the tool is not clunky. They keep developing SwifDoo to make it easier and faster to use. You can use this tool to save time on PDF tasks that are important but can be challenging to do if you aren't aware of any good tools.
Many PDF tools can take up a lot of space and use more system resources to run. Compared to many such tools, SwifDoo PDF has a clear advantage. It is only 10 MB which ensures that it does not use too much system resources. But that doesn't make it any less powerful. You can do all the PDF tasks without making it heavy on your machine.
Quickly Open a PDF Document
Using SwifDoo it is quite easy to quickly open a PDF document. The company has incorporated Microsoft-like interfaces to make it easier for people to interact with the tool to load and process their documents.
Add Extra Layer of Security
PDF Documents can often contain sensitive and confidential information. You can rely on SwifDoo to add extra layers of security to any document. You can use the tool to add two-layer password protection, differentiated permissions and legal e-signature. This is to guarantee the document's security.
So, this was a brief review from our side for the SwifDoo PDF tool. As you can see there are multiple essential features that the tool offers. You don't have to straight up jump into buying the tool without trying it first. That's why the company even offers a free download where you can check out the tool. We recommend SwifDoo to anyone looking for a powerful PDF tool to take care of challenging PDF tasks.