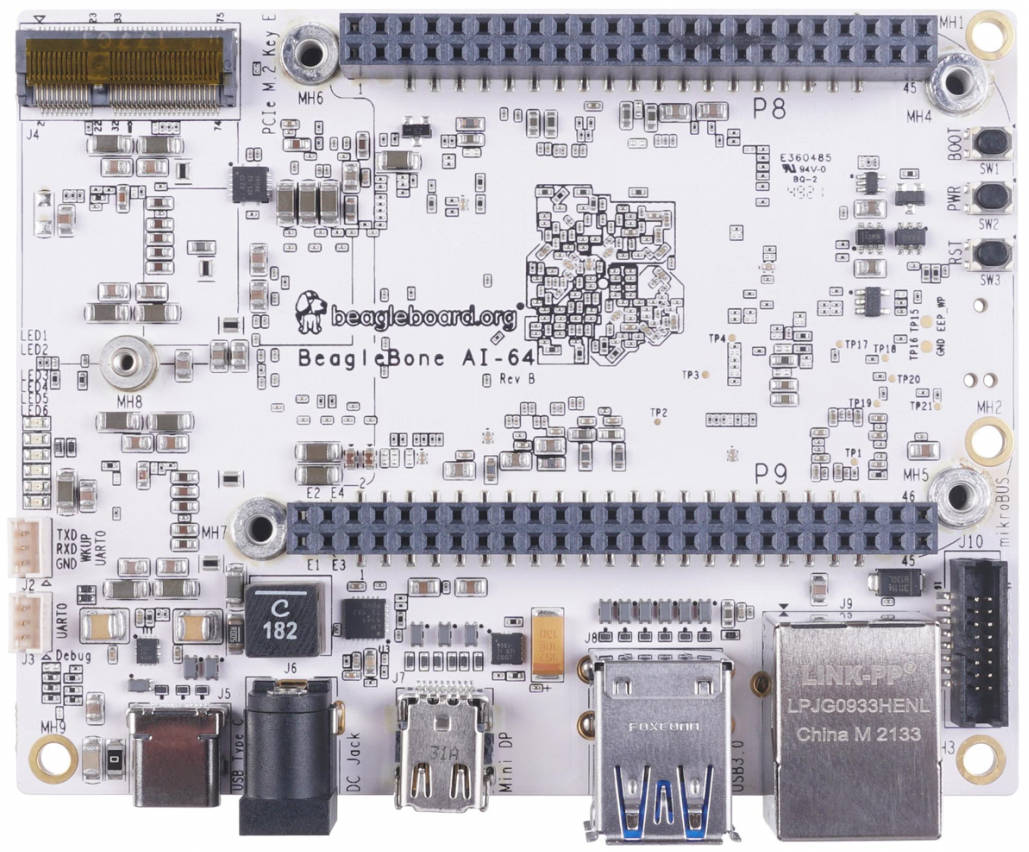 As its name suggests, it brings AI and machine-learning to the well known BeagleBone platform. Cape headers will provide off-the-shelf embedded expansion options, and a web browser is the interface to begin programming the open source hardware.
Specifically, the new board is powered by a TDA4VM SoC with dual Arm Cortex-A72 cores, a programmable C7x DSP core, along with various accelerators (1 Deep Learning accelerator, 1 Depth and Motion accelerator, 1 Video Encode/Decode accelerator, 1 Vision Processing accelerator).
In terms of memory, there's 4GB LPDDR4, 6GB eMMC flash with high-speed interface and a MicroSD card interface. And there are boot, reset and power buttons, a power LED and five user-accessible LEDs. The software is Debian GNU/Linux.
You can read more about the spec on the BeagleBoard.org website.
AI
The board is also highlighted and distributed by Farnell, among others, which describes it as an SBC for building "performance-optimised" embedded applications, bringing "a complete artificial intelligence (AI) and machine learning system to developers"
"BeagleBone AI-64 SBC provides the convenience and expandability of the BeagleBone platform with all of the on-board peripherals required to start learning and building applications. The familiar BeagleBone cape headers provide industry-leading expansion possibilities with hundreds of open-source hardware examples and dozens of readily available off-the-shelf embedded expansion options. A simple web browser, power source and network connection are all that are needed to start building performance-optimised embedded applications."
You can read more about the board on the BeagleBone website, and our own technology editor has also reported on the release.
"BeagleBone AI-64 represents a major milestone for BeagleBoard.org, satisfying some of the most requested features from our developer community," said Jason Kridner, BeagleBoard.org Foundation Board President. "With multiple SuperSpeed USB ports, familiar BeagleBone cape expansion headers, and desktop-capable performance, the general-purpose embedded applications for this board are endless, with eight TOPS neural-network performance accessible through familiar Python libraries to boot."
See also: Arduino turns to Linux for the heavy lifting Portenta X8