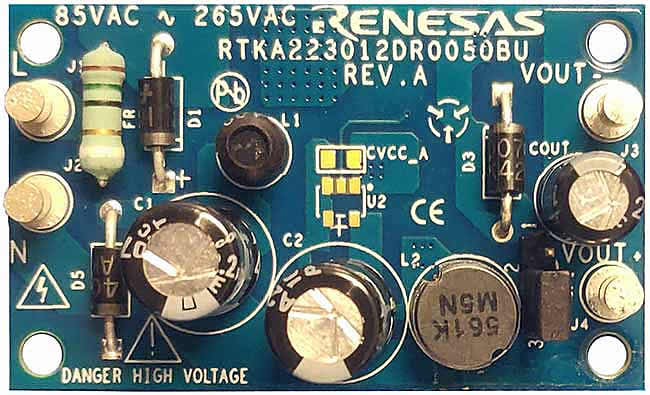 Depending on topology, which can include isolated fly-back or non-isolated buck, standby power can be below 20mW in the converters, which are numbered RAA2230xx.
"The converters feature a unique constant-off-time control method that helps to achieve low standby power, negligible EMI and no audible noise," according to distributor Anglia, which is currently promoting the parts. "The family also supports secondary-side-feedback isolated fly-back topology."
Constant off-time control is available for heavy load,s with switching frequency above the audible at ~50kHz (30kHz for RAA223011), then pulse frequency modulation takes over for  light-load operation for efficiency – most of the devices can achieve <10mA, said Anglia, except RAA223021 which is <20mW.
Efficiency up to 80% (75% for RAA223012), and built-in frequency dithering lowers and spreads EMI.
Depending on part, available output is 3.3 to 54V, at up to 2.5W (RAA223012), 5W (RAA223011) or 8W (RAA223021). Input can range across 20 to 305Vac.
"Furthermore, the regulators have been designed to be pin-to-pin compatible with other industry competitors devices," added Anglia.
Packaging choice is TSOT23-5, SOIC-8 or SOIC-7, and operation is over -40 to +125°C.
Applications are foreseen in domestic appliances, power adaptors and smoke alarms.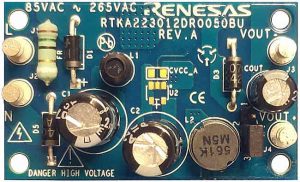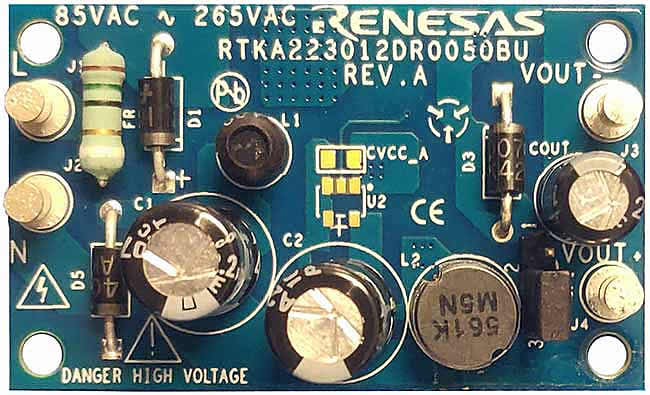 Demo boards are available for various topologies operating from 85 to 265Vac and delivering currents up to 1A. "Some of the boards are also pre-compliant with the conducted EMI requirements by EN55022/CISPR 22," said Anglia, which is currently offering free evaluation board and samples (scroll to bottom) – personal details are required in the application, and there may be caveats.