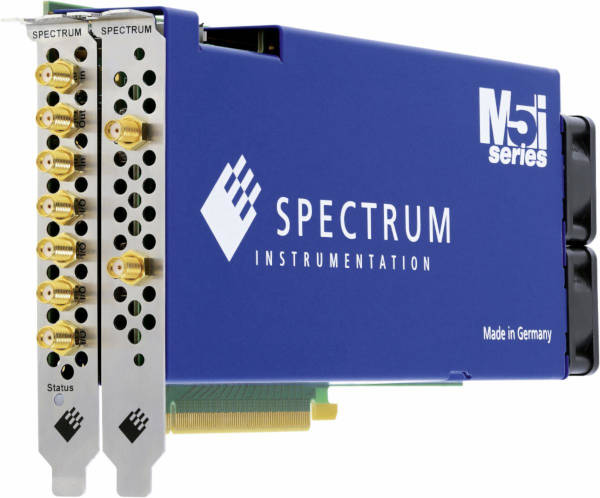 "That is nearly twice as fast as any other PCIe digitiser currently on the market," claimed the German company. "It allows the cards to continuously run at their maximum sampling rate of 6.4Gsample/s with 12bit resolution, and transfer the acquired data directly to PC memory for storage, or even to CPUs and CUDA-based GPUs for processing and analysis."
Dubbed M5i, the series of cards has two initial members, both 12bit: the single channel 6.4Gsample/s M5i.3330-x16, and the dual-channel M5i.3337-x16 (pictured) with synchronised 12bit 3.2Gsample/s on both channels, or 6.4Gsample/s on one channel.
Better than 1ppm accuracy is claimed for the PLL-based internal clock.
Front-end bandwidth is over 2GHz bandwidth, and full-scale ranges are programmable from ±200mV to ±2.5V with variable offset.
2Gsample (4Gbyte) of memory come as standard on the cards, with an option to extend this to 8Gsample (18Gbyte. Single-shot and multiple-waveform recording modes are supported, together with trigger time stamping.
Multiple recording divides the on-board memory into segments for the acquisition of numerous events, "perfect for situations like those encountered in serial bus testing, or in systems using stimulus-response processes, such as those found in lidar and radar systems," said Spectrum.
On-board memory can also be used as a ring-buffer (like a conventional oscilloscope) or as a FIFO-buffer for continuous streaming to the host PC.
Through SMA connectors, the front panel carries: channel inputs, four multi-functional digital I/O lines, and clock and trigger inputs and outputs – clock and trigger connections allowing additional digitisers and other instruments to be synchronised.
In-house testing showed maximum data transfer speed can be achieved with AMD's EPYC 7252 server processors, and direct RDMA data transfers to an Nvidia P2000 GPU.
Spectrum's optional 'Scapp' package adds direct data streaming to a CUDA GPU with up to 5,000 processing cores. This CUDA drivers and allows users to develop custom processing routines. Continuous averaging for noise reduction and FFT are included amongst examples.
The host PC can run Windows or Linux, with the company's SBench 6 GUI providing card control, data display, analysis, storage, and documentation, or the cards can be programmed using C, C++, C#, Delphi, VB.NET, J#, Python, Julia, Java, LabVIEW or MATLAB.
A software development kit contains necessary driver libraries and programming examples.
Warranty is five years, and includes software and firmware updates. Customer support is offered direct from the engineering team for the whole life of the product.
Applications with fibre optics, mass spectrometry, semiconductor testing, RF recording and quantum technology are foreseen. Spectrum CTO Oliver Rovini pointed out that the cards allow AI to work on vast amounts of data acquired directly from MHz and GHz signals.