"Development engineers can now see more signal detail and infrequent events than with any other oscilloscope," claimed the company.
The series is called MXO 4 and also includes 200, 350 and 500MHz models, plus one at 1GHz.
The 1.5GHz figure comes from the scope with the B2415 option, its input set to 50Ω, and sampling set to real-time 5Gsample/s interleaved mode. As it is interleaved, 5Gsample/s is only available on two channels simultaneously – it drops to 2.5Gsample/s on four channels.
With a 1MΩ input and the company's RT-ZP11 passive probe, bandwidth drops to ≥700MHz.
Inside is a custom 200Gbit/s asic and a 12bit ADC that operates across all the instrument sample rates "with an 18bit vertical resolution architecture" claimed R&S. Looking at the data sheet, this boosted resolution is achieved through digital filtering and is only available with bandwidths between 1kHz and 10MHz.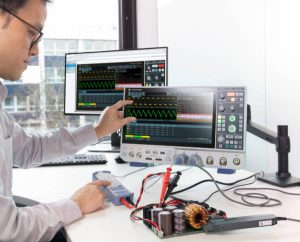 Digital trigger comes standard on the whole series. "The trigger sensitivity of 1/10,000 division can isolate difficult-to-find small physical layer anomalies in the presence of large signals", according to the company.
Once again trawling the data sheet, you find: "Because of the digital trigger concept of the MXO 4, signals with increased numeric resolution are used as the input for triggering" – so bandwidth caveats apply.
It is also claiming the largest offset voltage range, with +/-5V available with 500μV/div scaling. The data sheet has this as "±(5V – input sensitivity x position).
In addition to time domain measurements, the scopes include spectrum analysis and are "the first oscilloscopes to perform 45,000 fast Fourier transforms per second".
For bench use (see photo), the instrument has VESA mounts in the rear, and there is a 6HU rack-mount kit.
16 digital channels can be added with a mixed signal oscilloscope (MSO) option, and other options include a dual channel 100MHz arbitrary generator, and protocol decode and triggering options for a variety of industry standard buses.
Dimensions are 414 x 279 x 162mm and ~6kg.
For UK readers: "R&S is exhibiting at EDS next week, and the MXO 4 will be in the focus on our booth", company spokesman Christian Mokry told Electronics Weekly. The Engineering Design Show is on 12 and 13 October at the Coventry Building Society Arena (was the Ricoh Arena).
Find the MXO 4 product page here, and that all-important data sheet here.